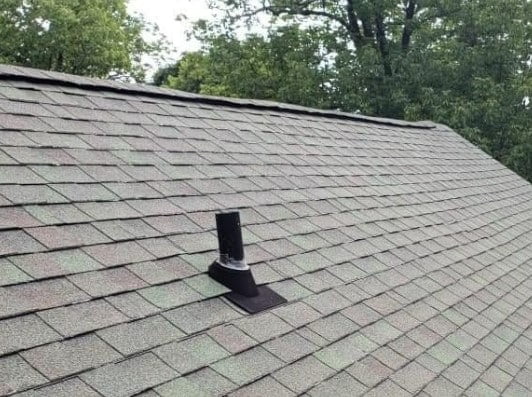 Cheapest Roofing Options Right Now
Unfortunately, roofing can be pricey. No matter which way you look at it, though, a roof replacement is going to be an investment. However, there are factors that can help you get the cheapest roofing possible. When looking at the cheapest roofing, one of the best factors to consider is type of roofing material. Of course, some types of roofing materials for roofing are more expensive than others. So, look at what is cheapest to get the best deal.
Cheapest Roofing: Asphalt Roofing Shingles
To start, one of the cheapest roofing materials you can get are asphalt shingles. On average, asphalt costs about $1 per square foot. Plus, asphalt costs about $2 for labor per square foot. Indeed, asphalt is considered to be very cost effective. Also, they are lightweight and easy to install. In addition, they can last between 15 to 20 years. Due to its low price, it may seem like a limited option. However, asphalt has many varieties. Since it comes in singles, there are multiple styles for asphalt. Notably, some of the common ones are strip shingles, dimensional shingles, and luxury shingles. On the other hand, shingles roofs are weak against heat damage, algae, and mold. These are caused by excess moisture on your shingles, which builds up on the underside of the shingle. So, you may have to pay for repairs more often. Overall, asphalt is a great option. It offers the buyer a great price while still looking layered and varied to a common outsider.
Rolled Roofing
Next, rolled roofing are cheap long rolls of asphalt topped with mineral granules. Like regular asphalt, it is also cheap, costing around 50 cents per roll. Indeed, all the materials on these roofing rolls are inexpensive. To note, they are also great for covering low incline roofs. However, these rolls are not good for all roofs. In fact, rolled roofing on flat roofs can cause leakage. Also, rolled roofing has a low lifespan. Notably, rolled roofs only last between 5 to 10 years with regular maintenance. So, these are usually used on sheds, barns, and other smaller buildings. So, rolled roofs may not be great for all roofs, but they are a cheap option for roofs that do not need to look aesthetically pleasing.
Metal Roofing
Thirdly, another popular option is corrugated metal roofing. On average, metal roofs cost between $1.80 to $2.50 per square foot. While this is more expensive than the other roofs listed, it has many upsides. For one, there are many different types of metal that can be used. For instance, galvalume, aluminum, zinc, copper, and steel are all popular options. However, note that steel usually costs $3.35 per square food, but can last longer than the other metals. Also, metal roofing is known for being very energy efficient. Indeed, it helps block out heat or cold during the winter and summer seasons, so it can save you money on electricity. Plus, metal roofs last a long time. If installed properly, metal roofing can last over 30 years with little roof repair.
Clay and Concrete Tiles
Lastly, clay and concrete tiles are another great option. Indeed, these tiles are known to be one of the most durable roofing materials. However, have more upfront costs at first compared to other materials. In fact, clay roofing materials can cost between $12.50 to $24 per square foot. Concrete tiles, on the other hand, are cheaper, because they can be made easily. Notably, all it takes is to mix sand, cement, and water. One great benefit of these tiles is water absorption. These tiles can absorb between 6% to 13% more water than other styles of roofing, which makes it harder for moisture to get into the house.
Cheapest Roofing For Your House
Overall, affordable roofs can be hard to find. With material and labor costs, you will be putting lots of money into it no matter what. However, it is not impossible to find the cheapest roofing you can. Indeed, just look at what your house needs and find the best material for it. As mentioned above, asphalt and rolled roofing are very cheap, and metal roofing (as well as clay and concrete tiles) have benefits that make the higher price worth the investment. If you need a roof replacement and don't know where to start, call Titan Construction for a free quote today.