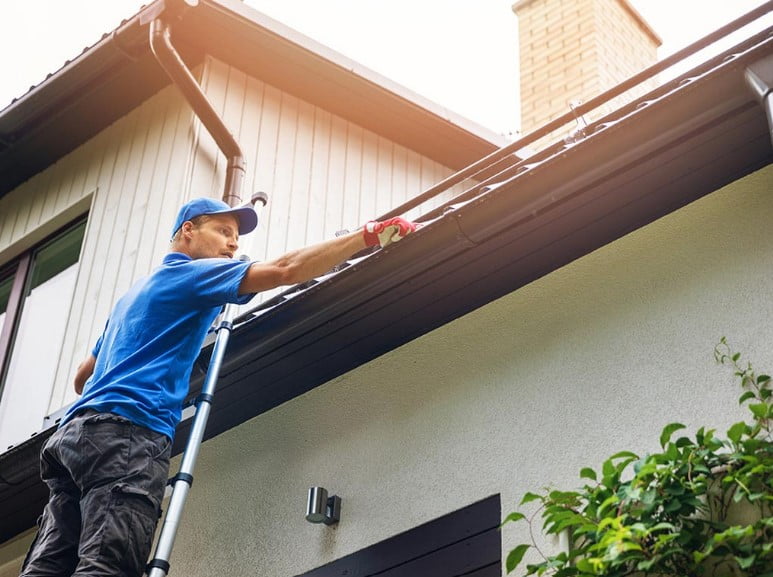 Gutter Cleaning Services Done Professionally
Gutter cleaning services are a vital part of roof care. Indeed, not cleaning your gutters can lead to water getting into your roof. Likewise, this water can cause leaks that cost thousands to fix. Also, leaves, twigs, and debris from the gutters can clog your drains and cause problems. Thus, it is important to know about professional gutter cleaning services to make sure your home stays safe.
The Importance of Cleaning Your Gutters
As mentioned, gutters need to be cleaned to have a safe roof. In fact, you should clean your gutters at least twice a year. Indeed, it is important to clean your gutters in the spring and fall. Notably, some experts also suggest you clean your gutters in the summer. So, how do clogged gutters cause damage? Well, if you don't remove debris often, clogged gutters make it so standing water can pool on your roof. If this happens, then this standing water can soak the foundation of your roof and leak in your home. If you have gutter guards, these should also be cleaned at least once a year. To explain, gutter guards go over your gutters and are meant to keep waste out of your gutters. However, they can also get dirty, so they must be cleaned, too.
How to Clean Your Gutters
If you are able, then cleaning your gutters is a task you can do on your own. However, you need to know how to do it right. First, get the right tools to clean your gutters properly. Indeed, you want to get an extension ladder, a putty knife or a blade, a good garden hose, and work gloves. Of course, the ladder will help you get to your gutters and the work gloves will protect your hands. Then, the putty knife will help you scrape or cut off any debris that is hard to get with your hands. Once you get up to your roof, start picking out anything you see that could be blocking water. Then, use your garden hose to see if there are any areas still being blocked. Also, if you have the right items, you could power wash your gutters to clean it even more. Notably, this could also help you find any areas that clog quicker than others. Thus, you can buy gutter guards for these spots. Remember, do not ever lean with your whole weight on the gutters. If you do, then you could break your gutters and fall. Also, be sure not to hang anything from the gutters.
Hiring Professional Gutter Cleaning Services
Indeed, gutter cleaning is something that can be done alone. However, we highly recommend you call professional gutter cleaners for this task as well. For one, professional gutter cleaning services will have skills and tools that a normal person would not. For example, a cleaning company will have gutters scoops, pressure washers, and vacuums meant for gutter cleaning that normal people would not. Thus, it makes the job easier and safer, and you will get a better quality of work in the long run. Plus, gutter cleaning services will offer a lot more services than just gutter cleaning. Indeed, most gutter cleaning services offer inside gutter cleaning and outside gutter washing. Also, many will also add soffit and fascia washing, roof blowing for debris removal, and window cleaning. Notably, these services will help you do a great job when doing future gutter cleanings on your gutters and downspouts. Another thing, professional gutter cleaning services have most likely worked with a lot of gutter systems. So, if you have a complex gutter system, they will have an easier cleaning it than you might. Finally, gutter cleaning services are easy to get ahold of. Certainly, many can be called online or by phone. Once this is done, they can come out and quickly service your house. That way, you will have clean gutters!
Gutter Cleaning Services FAQ
If you are thinking about hiring a gutter cleaning service, here are some more common questions about gutter cleaning.
1. How Much Does a Gutter Cleaning Service Cost?
When it comes to price, each business has their own model. However, it is safe to guess that most services charge between $125 and $225. Some companies price based on linear feet. In other words, they will add the length of your gutters and multiply their base price. For example, a company may charge $1 for each linear foot of your gutter. On the other hand, some companies charge by square footage of your roof. For example, one square foot may cost you $0.40. Then, the company will multiply this by your roof's total square footage. Remember, cleaning the gutters of a two story homes will cost twice as much as a single story house. So, keep this in mind when hiring a gutter cleaning service.
2. How Long Does Gutter Cleaning Take?
For most homes, gutter cleaning should take about 1-2 hours, whether you have a one or two story home. If you have gutter guards, this cleaning may take longer because the guards must be removed. Also, if your home or roof is large, this makes the cleaning longer, too.
Getting Your Gutters Cleaned
Overall, gutter cleaning is a vital part of keeping your roof clean. In the long run, it will save you money on saving your house from leaks. Indeed, whether you do it yourself or hire a gutter cleaning service, make sure your gutters are being cleaned regularly.